The Erasmus Mundus Joint Master Degrees: A Deep Dive into Europe's Premier Scholarship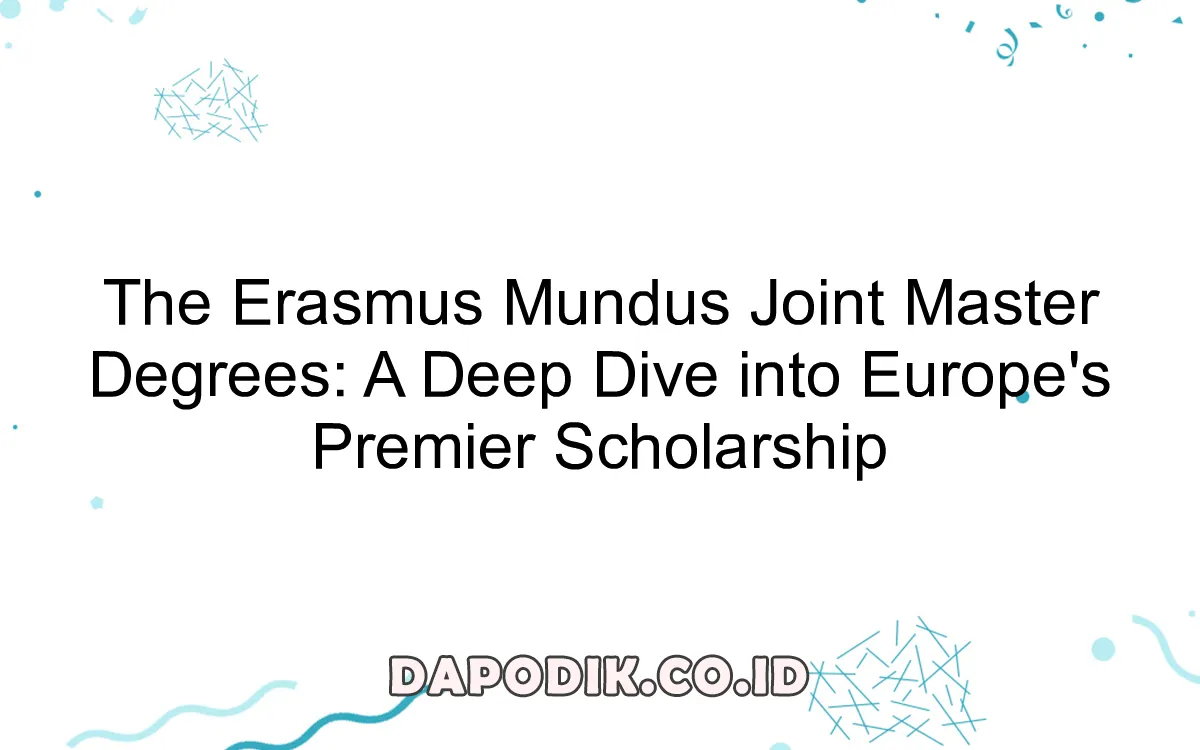 Erasmus Mundus Scholarship
The Erasmus Mundus Joint Master Degrees: A Deep Dive into Europe's Premier Scholarship
The Erasmus Mundus scholarship program is a prestigious initiative funded by the European Commission. It aims to promote international cooperation and enhance the quality of European higher education. Erasmus Mundus scholarships offer unique opportunities for students all over the world to pursue high-quality master's degrees in Europe.
What is Erasmus Mundus Joint Master Degrees?
The Erasmus Mundus Joint Master Degrees (EMJMDs) are innovative and interdisciplinary programs offered by consortia of European universities. These programs are designed to provide an integrated study experience in multiple countries, allowing students to gain a broader perspective and develop a global mindset.
EMJMDs cover a wide range of fields, including science, engineering, humanities, social sciences, and arts. They offer cutting-edge academic curricula, international mobility, and a rich cultural experience for students. One of the key objectives of these programs is to equip graduates with the skills and knowledge needed to address global challenges.
How does the Erasmus Mundus scholarship work?
The Erasmus Mundus scholarship is highly competitive and provides financial support to outstanding students from around the world. It covers tuition fees, travel expenses, monthly living allowance, and insurance for the entire duration of the master's program.
To apply for the Erasmus Mundus scholarship, students need to complete an online application form and submit required documents, including academic transcripts, recommendation letters, and a motivation letter. The selection process is rigorous and based on academic excellence, professional experience, and motivation.
Benefits of the Erasmus Mundus scholarship
Access to world-class universities and academic resources in Europe
Opportunity to study and live in multiple European countries
International networking and collaboration with students from diverse backgrounds
Enhanced employability and career prospects
Exposure to different cultures and languages
Conclusion
The Erasmus Mundus Joint Master Degrees offer a transformative educational experience, bringing together outstanding students and renowned European universities. This prestigious scholarship program not only allows students to advance their knowledge and skills but also promotes cultural exchange and global understanding. If you aspire to pursue a master's degree in Europe and explore the richness of its academic landscape, the Erasmus Mundus scholarship is an opportunity not to be missed.
Erasmus+ Master Degree Loans
Erasmus+ Master Degree Loans are a financial support scheme offered to students pursuing a Master's degree through the Erasmus Mundus Joint Master Degrees (EMJMD). These loans aim to make higher education in Europe more accessible for international students, fostering academic mobility and cross-cultural learning.
The EMJMD program, funded by the European Union, offers a wide range of interdisciplinary master's courses taught by consortiums of European universities. These courses provide students with an excellent opportunity to enhance their knowledge and skills in specialized fields, while also experiencing the European academic environment.
Here are some key points about Erasmus+ Master Degree Loans:
Eligibility Criteria:
Applicants must be accepted into an EMJMD program.
Students from any part of the world are eligible to apply.
Loan recipients must come from countries where Erasmus+ Master Degree Loans are available.
Loan Features:
The loan covers tuition fees, travel costs, and living expenses for the entire duration of the master's program.
Repayment terms are flexible, and students have a grace period after graduation before they need to start repaying the loan.
Interest rates are generally lower compared to standard commercial loans.
Loan amounts vary based on individual circumstances and the specific EMJMD program.
Application Process:
Find an eligible EMJMD course that aligns with your academic and career goals.
Submit an application directly to the EMJMD program's consortium.
If accepted, you can then apply for an Erasmus+ Master Degree Loan.
Loan applications are usually processed by national banks or other financial institutions in your home country.
Erasmus+ Master Degree Loans have played a significant role in enabling students from diverse backgrounds to pursue their dream of studying in Europe. With the financial burden alleviated, more students can enjoy the transformative experience offered by the EMJMD programs.
Conclusion
The Erasmus Mundus Joint Master Degrees offer exceptional scholarship opportunities for students looking to pursue their studies in Europe. With a broad range of interdisciplinary programs, prestigious universities, and generous funding options, these master degrees provide a deep dive into Europe's academic landscape. By promoting international collaboration and cultural exchange, the Erasmus Mundus Joint Master Degrees play a vital role in creating a global community of scholars.